---
The Softest Bed you Can Buy For Your Pet!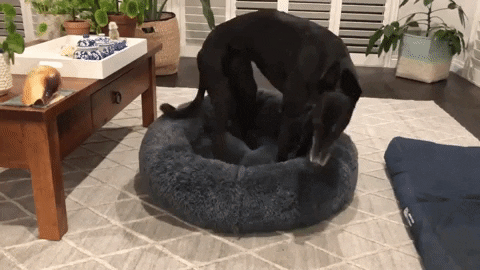 Meet the Super Soft Calming Bed! Improve your pets sleeping experience and reduce their anxiety with this functional and effective bed that will calm them - anytime, anywhere!
The Super Soft Calming Bed is made with a raised outer rim and soft fur fabric that emulates a mother's touch, quickly and effectively surrounding them with warmth, comfort and security.

The change should be instant, as they lay and allow the overwhelming sensations of relaxation and peace take hold.

Product benefits and features include:

✔️ Ease your pets anxiety quicker than ever.
✔️ Leave your home stress free knowing your pet is safe and secure in their calming bed.
✔️ Thick bedding for extra comfort and support.
✔️ Raised outer rim, great for your pet to rest their head and neck.
✔️ Made with a soft fur fabric that is completely pet friendly.
✔️ Anti-slip grip fabric located on the bottom of the bed ensuring stability on slippery surfaces
The
Super Soft Calming Bed
is suitable for dogs and cats of small to medium sizes - refer to the sizing tab below to ensure you get the perfect fit for your furry friend! 
This product is in high demand. Add it to your cart to get 20% off today, whilst stock lasts!

Calming Beds
The beds raised rim, soft bedding and fur-like material create a safe space for your pet to relax in, emulating the feeling of a mothers warm touch.
Our company is Australian, however the products are manufactured in china where we work closely with our supplier to bring you the best quality products at an affordable price.  
We use a range of fabrics for our beds which include Fleece, polyester and microfibres.
We have a 100% quality guarantee, so if you're not happy with the products quality you can email us at berniesbeds@gmail.com to request a return and get your money back! 
Absolutely! It is also drier friendly however we advise to hang dry as soon as possible to prevent the material from matting. 
Pendants
You have a choice of Polished Steel & Titanium Gold.
Both materials are bend and scratch resistant, as well as being highly durable.
2.5 cm in diameter for the Engravable Necklaces and 3.3 cm in diameter for the Engravable Keychains.
Once you send your photo in, our team of highly skilled artists create a sketch of the design. Once this has been completed it is then passed on to the team of incredible craftsmen who hand make every single pendant.
We will follow exactly what you enter in the checkout process so if you make a mistake please reach out immediately. If there has been a mistake on our end please also reach out and we will organise a replacement immediately.
There's a 15-character limit to engraving. The best messages are short and sweet!
Yes! Just make sure the pictures you select follow the "Photo Rules". 
Shipping
Shipping is absolutely free! Shipping & delivery times depend on your location but we ask for you to allow 15-21 days for the Super Soft Calming Beds. 
Please allow 3-4 business days for your order to be created and dispatched and another 10-14 business days for shipping and delivery to your door for the Engravable Keychains and Necklaces as they are a completely custom product. 
Please note: If you order your Engravable Necklace or Keychain along with the Super Soft Calming Bed, your order will unfortunately come in two separate shipments.